«Mi vedo come qualcuno che parte, esplora e poi, alla fine, scopre. L'unico modo che conosco per affrontare un posto nuovo è camminare. Perché questo è ciò che fa un fotografo della strada: cammina, osserva, aspetta, parla, e poi guarda e aspetta ancora, cercando di non perdere mai la fiducia nel trovare dietro l'angolo qualcosa di inatteso, di sconosciuto, o il lato nascosto di cose che conosce già»
Alex Webb è un fotografo americano, considerato uno dei più importanti esponenti della street photography. Noto per le sue fotografie a colori. Nasce a San Francisco in California, nel 1952. Ha studiato Storia e Letteratura a Harvard e fotografia al Carpenter Center for the Visual Arts. E' entrato a far parte dell'agenzia Magnum in qualità di membro associato nel 1976, diventando un membro a pieno titolo nel 1979. Molti suoi colleghi dell'agenzia Magnum, costruiscono la propria carriera inseguendo i grandi eventi drammatici, il fotografo statunitense percorre le trincee della strada. Alcuni fotografi hanno la necessità di fotografare i posti in cui vivono, altri di uscire e lasciare i luoghi da dove vengono per esplorare. Alex Webb è un esploratore. Webb ha creato opere che vanno oltre la documentazione visiva degli eventi e dei luoghi che fotografa. Ama definirsi uno street photographer, ma appare chiaro nel suo lavoro un'impostazione molto artistica.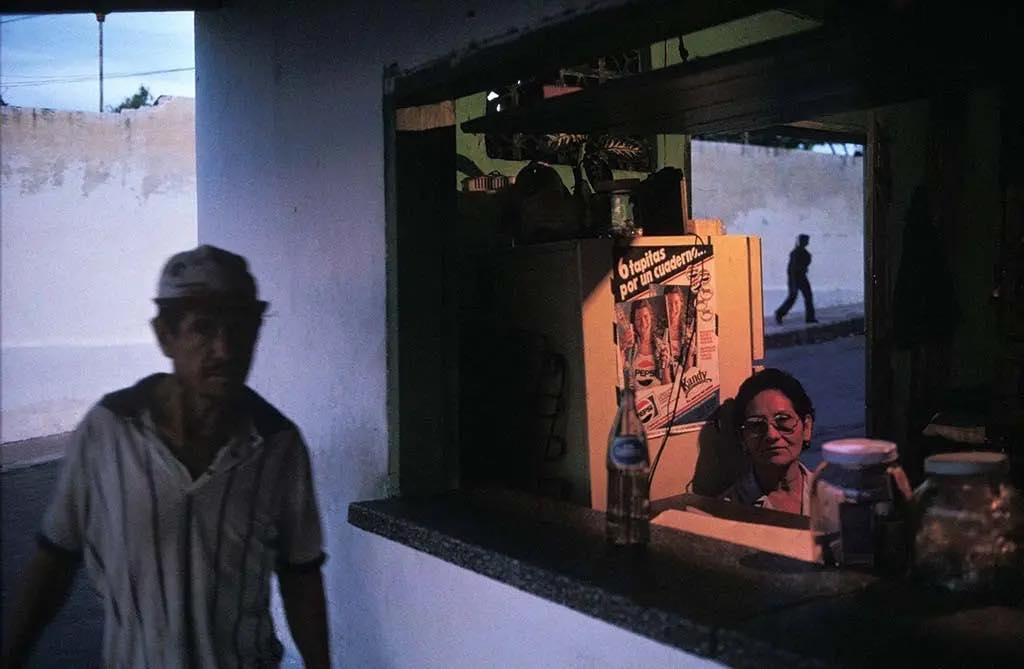 Alex Webb arriva dai canoni della fotografia in bianco e nero, forte delle lezioni di Henry Cartier-Bresson e di Robert Frank, ma ispirato anche dalla letteratura e dalla filosofia. La fotografia di Webb si evolve e passa alla pellicola a colori: Il suo stile, caratterizzato da luci intense, ci regala immagini che sollevano più domande che risposte. una decisa saturazione cromatica e una profondità dei neri funzionali allo stile del fotografo. Foto che non raccontano solo storie, ma che suggeriscono scenari, colgono attimi e risvegliano emozioni. Ogni immagine viene racchiusa in composizioni armoniche, con colori accesi, ma naturali, fatte di ombre e geometrie nette, dove i soggetti, per lo più inconsapevoli, diventano protagonisti di un teatro quotidiano che rivela la poetica della tragedia. Fotografie che creano un immediato senso di profondità, giocando con la composizione degli elementi nei vari piani dell'immagine.
Durante la sua lunga ed affermata carriera ha pubblicato svariati libri di fotografia, tra i quali:
Hot Light/Half-Made Worlds
Under a Grudging Sun
Da The Sunshine State
Amazon
Istanbul
La sofferenza della luce
La Calle
Violet Isle
Memory City
Slant Rhyme
Brooklyn: The City Within
Dislocations
Massachusttes
Traversate
Street Photography e il Poetic Image
Tra i riconoscimenti ottenuti per il suo lavoro, troviamo:
Overseas Press Club Award (1980)
Leopold Godowsky, Jr. Color Photography Award (1988)
National Endowment for the Arts (1990)
Leica Medal of Excellence (2000)
David Octavius Hill Medaille (2002)
Le opere di Webb sono state esposte in tutto il mondo, tra cui il:
Walker Art Center,
The Museum of Photographic Arts a San Diego in California
The Southland Collection a Dallas in Texas
The International Center of Photography a New York
Museum of Contemporary Art di San Diego e
Whitney Museum of American Art
Whitney Museum of Art
Metropolitan Museum di New York e
High Museum of Art di Atlanta
Le fotografie di Alex Webb sono comparse in magazine come GEO, Time, Stern, Life, National Geographic e il New York Times Magazine. Vive e lavora a New York, con Rebecca Norris Webb, sua moglie e partner creativa.
"La fotografia non è un buon modo per dire le cose,  la cosa più vicina che risveglia l'immagine è poesia, le mie immagini non raccontano storie, sono poesie."
"La fotografia è una magia che nasce dall'incontro della soggettività del fotografo con l'oggettività della realtà, da questo incontro nasce una terza dimensione che vive della tensione tra la verità e l'immaginazione."